I discussed custom fields in QuickBooks in an article last year, and it is one of the most popular articles in my blog. Many users depend on custom fields to add features to invoices, sales orders and estimates (and more). The two most common complaints about custom fields have been there need to be more and I need to define the "type" of the field. If you are a user of QuickBooks Enterprise – good news! Intuit has listened.
The bad news is that these changes are only supported by Enterprise, not Pro or Premier, and that at least in the initial release there are some problems that may affect people who use third party addon programs.
Special Note: I've written a more up-to-date revision of this article that I have posted in the QuickBooks and Beyond blog, which I recommend that you read. See my updated 

Custom Fields in QuickBooks

 article.
More Custom Fields
Up until now you could have five custom fields in the item list, and seven custom fields in the customer, vendor or employee lists (with a maximum of 15 total for all three lists).
With the release of QuickBooks Enterprise V 10 we now have the ability to add up to 15 custom fields in the item list, and 12 custom fields in the customer, vendor or employee lists (with a maximum of 30 total for all three lists).
This is a significant and welcome increase!
Custom Field Attributes
In prior versions the custom fields were simply a 30 character text field. With this release we have a wonderful range of selections and features that are available. I'll use the Item List as an example. Here is the Define Fields window (forgive me for the simplistic field names):
Required On
There are two columns that have been added under the heading of required on, Trans and List. if you check these boxes then you must enter a value in the field in the list or transaction, as you specify. If you check this in the item list you are asked what item type this will be applied to.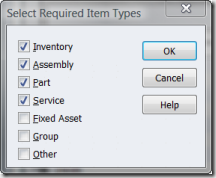 Note that Part in this list refers to a Non-Inventory Part, while Inventory refers to an Inventory Part, which I found a bit confusing at first.
If I try to save the custom fields for an item and leave the required field empty. I get a warning.
Kind of Data
This is great – you can specify the kind of data this field will accept, from a list of options.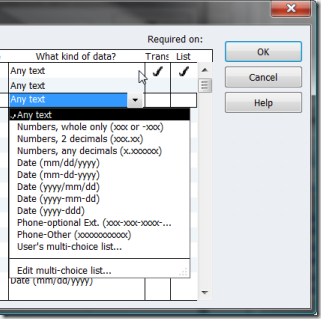 It would have been nice if they provided us with a way to enter our own "mask", but that would have been complicated. You have options for numbers, dates, phone numbers and a multi-choice list, which I know will excite a number of users.
If you choose multi-choice list you can enter a list of choices that can be used for the field. You have the option of limiting the user to this list or letting them add their own values.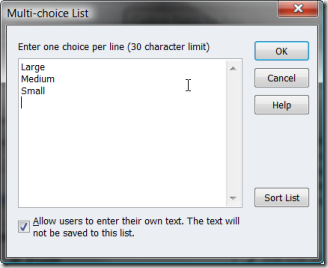 I don't know at this time if there is any limit to the number of choices for a list.
Problems With The New Custom Fields
Unfortunately, with the first release of Enterprise 10, I've been coming across some problems related to custom fields. I'll try to not get too far into the technical details here, as it can be a bit tricky.
Many people use third party integrated or "QuickBooks Compatible" products that work with QuickBooks using the "SDK", a programming interface that Intuit has supported for a number of years. Some of these third party products use custom fields (such as my CCRQInvoice invoicing program) for a variety of things. Unfortunately, Intuit has decided to "freeze" development of the "SDK", so they aren't going to add new features or fix bugs that they know about, which is really going to limit the usefulness of QuickBooks in many situations).
The problems I've found so far:
Third party programs cannot see the added custom fields. This may severely limit the usefulness of the added fields in many situations.
Third party programs cannot see the field attributes of any custom field. This is less of a problem, but it is annoying.
QuickBooks erroneously reports the "Other" fields as being "custom fields" if you use those fields as columns in an order. On the surface this didn't seem that big of a problem, but I've found a number of applications that will show errors when this happens. Note that this occurs in Pro and Premier as well.
For those of you who use the ODBC driver to access data, please note that this driver is built on the SDK and therefore has all of these same problems.
These are not show stoppers in most cases. Most people won't run into problems with this. However, if you are using a third party product that works with QuickBooks I would recommend that you test that product with Enterprise 10 before you commit yourself to it.
Is This Valuable?
Yes, this is a valuable addition. It is unfortunate that it is limited to Enterprise, but that is consistent with the Intuit marketing approach for the product (and the more robust database manager in Enterprise may be needed to manage this added data).
I know a number of companies that will bite the bullet and move up to Enterprise just to get these features.
Let me know what you think!
Category: Inventory, Invoicing, Program Updates, QuickBooks 2010
Charlie Russell is the founder of CCRSoftware. He's been involved with the small business software industry since the mid 70's, focusing on inventory and accounting software for small businesses. Charlie is a Certified Advanced QuickBooks ProAdvisor.