When you create a purchase order in QuickBooks the quantity that you have on outstanding PO's will show in several reports. If you receive a partial shipment on that PO and the remaining balance will not be shipped, you need to close the purchase order to remove the outstanding items on these reports. There have been a number of questions about this lately, so here is an article.
How a Purchase Order Affects Inventory
In my test company I have entered a simple purchase order for a couple of parts.

In this simple test case I don't have any of the purchasedpart items on other PO's, sales orders, invoices, or pending builds, so all you see is the 10 On PO in the inventory stock status by item report.

How a Partial Receipt Affects Inventory and the Purchase Order
Now let's enter a bill and receive some of the items. For the sake of discussion I'm going to receive just 4 of the purchasedpart item, and none of the sprocket item.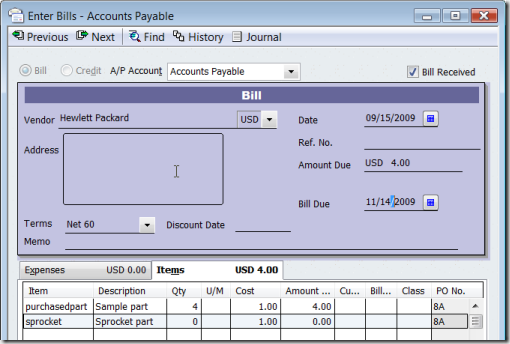 Here's what the PO looks like now.

And here is what the inventory report shows.

Closing the PO
The question that I see asked often is how do you cancel the unshipped items? We don't want to see that value in the On PO column any more. There are a couple of ways of handling this.
If you want to close out just a portion of the PO, put a check in the Clsd column. This will close just that line, leaving the rest open. Note that the backordered column is now set to zero.

The On PO column in the stock status report will no longer show a value for this item.

If the entire PO is canceled, check the Closed box on the bottom of the form. This closes all lines so that the items don't show on the report, and changes the status of the PO so that it won't show on any reports as an open PO.