It is an unfortunate part of doing business, but sometimes you find that you have to put a customer on credit hold. In QuickBooks it can be difficult to prevent your order entry staff from creating an invoice for a customer who you have placed on hold. Today I'll talk a bit about ways to manage this.
I'm interested in feedback from you as to how YOU manage credit holds. There are many ways of handling this, and I'll list a few (one of which I learned from one of my clients).
OK, so you have someone who would like to purchase your product or services, but for some reason you aren't ready to release the product (etc) to them yet. There are many reasons for wanting to do this – you may want to wait until a credit check is completed, you may be having some problems in collecting past due accounts from them, perhaps you need to confirm that this is a legitimate business and location, and more. For whatever reason, you want to put a hold on this customer so that you cannot release an invoice until you have settled whatever the issue is.
What I would LIKE to see is a way to lock a customer record so that my order clerks cannot release an invoice (or ship a product) to them. But that isn't easy to do. So what we have to do is to set up notifications of various sorts to let the order clerks know that they should not ship.
Using TERMS
One method is to add a credit hold item to your Terms list.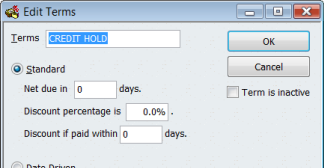 Select this as the default terms for the customer.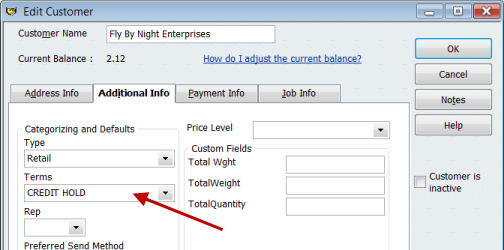 When you create a new order, the Terms box will show "Credit Hold", so you know that you should not ship to this customer.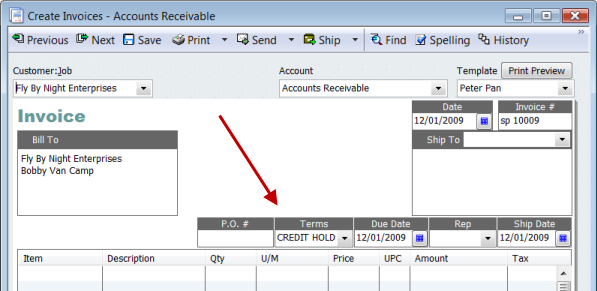 This is very passive, you have to pay close attention.
Using CREDIT LIMIT
Your customers have a Credit Limit field. You can enter a value of 0.00 in this field. Not that this is not the same as a blank value. If it is blank then there is no credit limit check. If it is zero then you will get a warning with every invoice that you enter.

When you select this customer when creating a new invoice you will get a warning if the customer already has a balance. If the customer doesn't have a balance, you will get this warning when you try to save the invoice.
This is much more obvious than the first option.
Using CREDIT HOLD ITEMS
These methods work to apply "holds" on any invoice activity for a customer. Sometimes you may find that you just want to put a hold on a specific order, not all. One way to handle this is to use a Credit Hold Item.
First, I create a sales and an expense account in the chart of accounts called Credit Hold Sale  and Credit Hold Expense.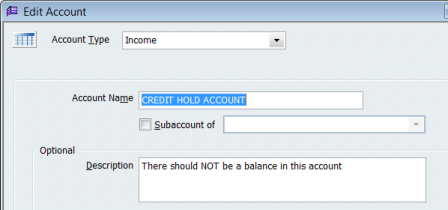 These help in auditing errors – you should never have a value in either of these accounts. If you do, someone made a mistake that you can correct. Note that you don't have to do this, I just like to have it as a cross check.
Next, I create a Credit Hold item in the item list. It should be an inventory item, and it should use the two accounts we just created.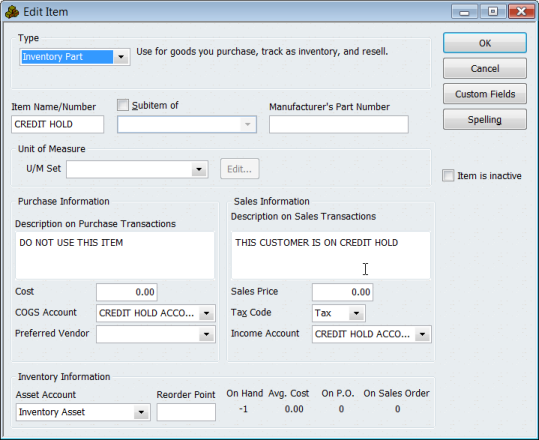 Make sure that the cost and price are zero.
Now, create your sales order or invoice for this customer, and add the Credit Hold item. If you are using invoices, you should right click on it and mark it as pending, also.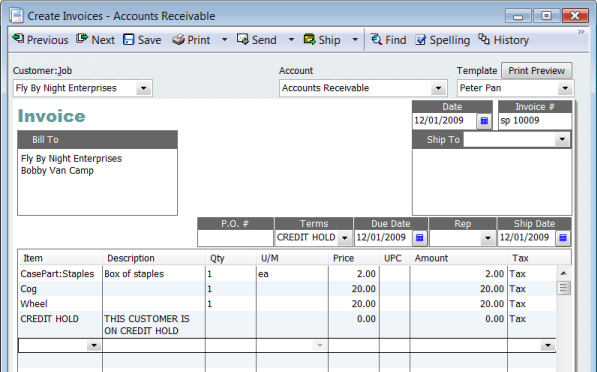 Why do I do this? So that I can get reports that show me any pending invoice or sales order that is on credit hold. You want to follow up on these to make sure that the credit check (or other activity) is being done, so that an order doesn't get stuck in limbo.
To be able to easily see these orders I am going to modify the pending sales report. You should find this in the sales section of your reports. Openthe report, set the date range to all, and click the modify report button in the upper left.
In the Filters tab, select Detail Level and set it to All.

Add a filter for Item. Select your Credit Hold item from the item list.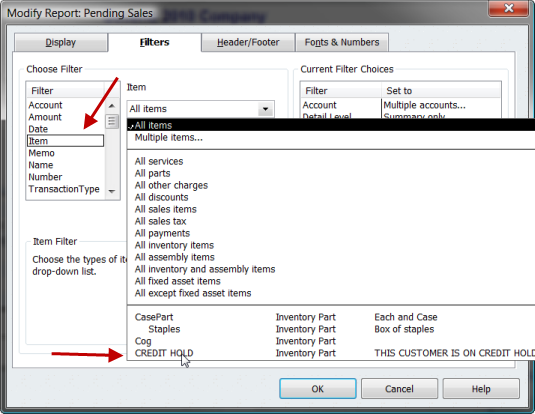 You should also change the title of the report to Credit Hold.
Your report will not show all pending invoices AND open sales orders that have the credit hold item listed. Memorize this report for future use.

Do you have other tricks that work for you? Let me know!