If there is damaged data in your QuickBooks company file it can be difficult (or expensive) to find a remedy. If you can't open your company file, Intuit has released the QuickBooks Company File Diagnostic Tool, a free program that you may find helpful.
This tool can be used to detect (and hopefully resolve) a variety of errors that can be caused by damage to your QuickBooks company file, including the 6130 error. This can be downloaded from the Intuit support web site, and it will work with QuickBooks 2006 and later. Note that it will only work with your company (QBW) file, not with backup (QBB), portable (QBM) or accountant's copies (QBA).
The only major caution I have for you at this time is that you need to run this diagnostic tool on the same computer that has the company file. Either install it on that computer, or move a copy to your local computer. Don't run this on a remote server or across the network.
Make sure you don't have a copy of QuickBooks running at the time. Pick a time when you do NOT have anyone else accessing the file. Note that it might take a long time to run if you have a large file – although I was happy with the speed in my trial run.
Run the tool, use the browse button to locate your company file, then click diagnose/repair.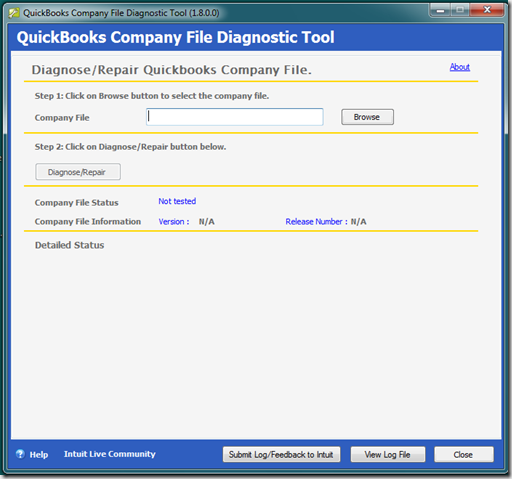 The first thing that the program does is to make a backup copy of your company file. This is a very good thing, because sometimes "repairs" to a company file can create new problems.
As the program analyzes your file it will keep you up to date as to the progress.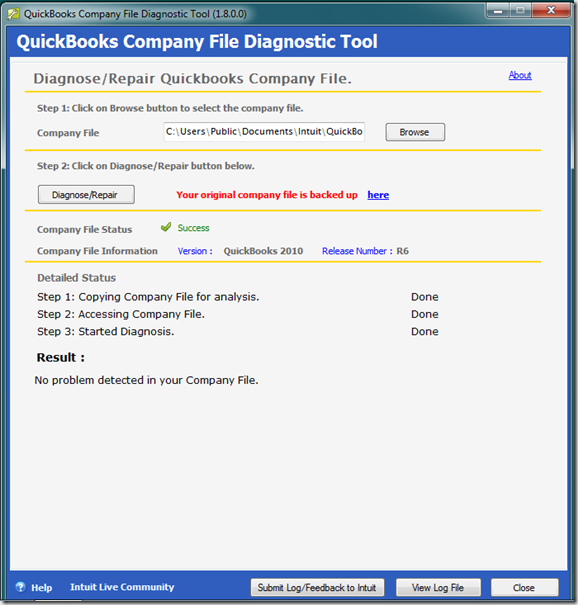 I recommend that  you click the link to find out where it has stored the backup file, so that you can find it if you need it. I would have preferred that they just told me on the screen where it was, or let me pick a location.
Does it work? Well, I'll assume so. I've talked to a number of people who have used it with success. Unfortunately, I don't have a file here that has damage that I can use to test this (if anyone has one that they would like to provide to me, I would love to get one so that I can test various repair options…).
If there are errors you can click on the view log file button to see an error log. In addition, if you are working with Intuit tech support and you have a tech support case ID from them, you can click the submit log button to send the log file to Intuit – the program will as you for your case ID.
This is another in a series of support tools that Intuit is providing to us, for no charge, to help diagnose and resolve problems with the QuickBooks database. A year ago I talked about the QuickBooks Multiuser Network Diagnostic Tool, which can be used to help resolve network issues with your QuickBooks data (including H202, H505 or 6000 series errors).