The typical way to work with sales tax in QuickBooks is to have one sales tax item or sales tax group that applies to the entire invoice. In some cases, however, you may have a need to charge different rates to different items in the invoice. Here are some thoughts on how to accomplish this.
Please note that this applies to the US editions of QuickBooks, I don't know how it works with the Canadian, UK or Australian versions.
I talked about how to enable sales tax in my Setting Up Sales Tax in QuickBooks article. If you aren't familiar with how QuickBooks manages sales tax you should review that first. Essentially, you create both sales tax item and sales tax group entries in the item list, and select the appropriate tax rate at the bottom of the invoice. You control which items are taxed by the taxable flag on each line, and to the entire invoice by using the customer tax code.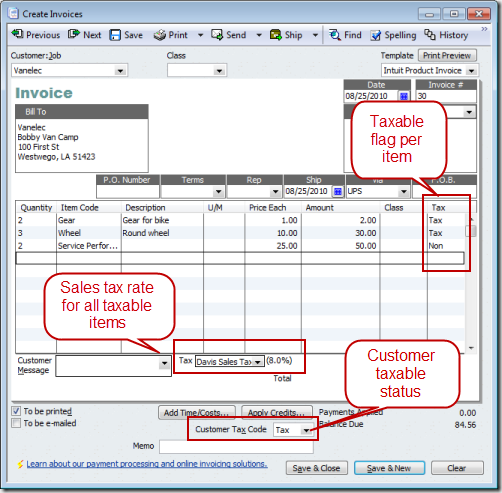 One tax rate is applied to all taxable items on the invoice. What do you do if you want to tax some items at different rates than other items? In the traditional approach shown above, you either tax an item at the one rate, or don't tax the item.
Create the Tax Items
For our example we'll set up three tax items. These must be sales tax items, they cannot be sales tax groups.
A sales tax item for Beverage items at 3%
A sales tax item for other (non-beverage) items at 5%
A sales tax item for a zero tax rate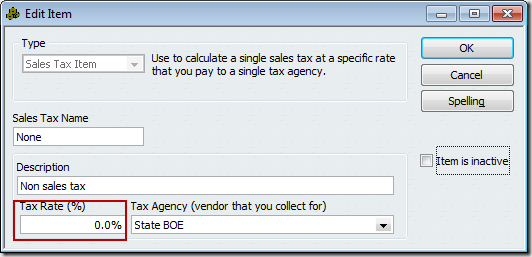 It is important that this be a zero rate.
In addition, if you don't have one already, create a subtotal item.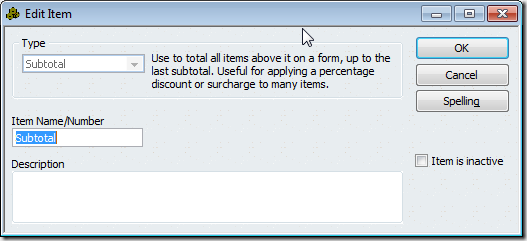 Create the Invoice
When you create the invoice you will enter all of the items that are taxed by the same rate in a section – and add a subtotal item after each section, followed by the appropriate sales tax item. QuickBooks will create a subtotal for the items and then apply the sales tax rate to that subtotal.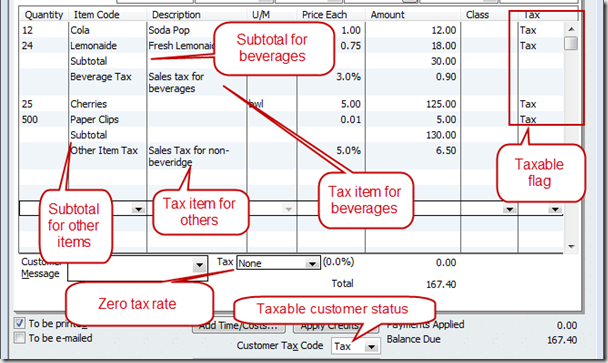 In addition, you must set the invoice tax rate to be the zero tax rate item, and the customer tax code to be tax.
This approach lets you set different tax rates for different items within the same invoice.
What is Going On?
We set the Customer Tax Code to have sales tax apply to this customer in this invoice.
We marked each item that IS taxable, no matter what rate, with the Tax flag.
We set the Tax to a zero value code so that there isn't one sales tax applied to ALL taxable items.
We grouped the items so that all items with a similar tax rate are together.
We added a subtotal item after each group to get the value of that kind of item.
We inserted the appropriate sales tax item after the subtotal to apply that tax to that group of items.
By having the zero rate for the overall invoice, no tax calculation is perfomed there. Once you do this you can insert the sales tax items in the appropriate place within the body of the invoice. This should show the correct values on the sales tax reports.
Note that we cannot use sales tax group items this way, as QuickBooks won't let you insert that item type as a line item. If you have compound tax jurisdictions this approach might not work for you.