The Enterprise Edition of QuickBooks 2011 adds a new optional feature: Advanced Inventory. This allows you to manage multiple inventory locations without having to use an add-on product that stores data outside of your QuickBooks company file.
Advanced Inventory allows you to track how much inventory (number of units and related dollar value) you have at multiple "sites" that you identify. You can:
Set site-specific reorder points so you know when to replenish inventory at each site.
Purchase items for a specific site.
Sell items from a specific site. You can also sell items from different sites on the same sales form.
Transfer items between sites.
Build assemblies using parts from different sites.
Run site-specific reports (reorder reports by site, inventory valuation by site, inventory sales by site, etc.)
PLEASE NOTE that much of this is based on information from an early release of QuickBooks 2011 – it is possible that some features may vary from what is described here.
Inventory Sites
You can specify a number of inventory sites, or locations, by adding them to the inventory site list. You can have up to 200 sites, and they cannot be nested.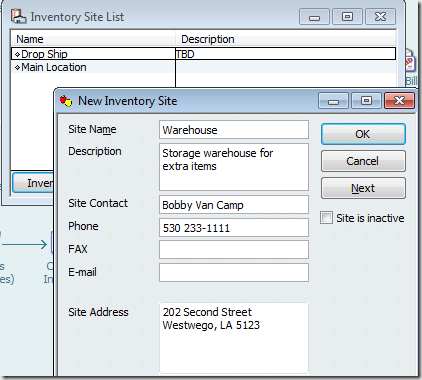 You can transfer inventory from one site to another in the transfer inventory function.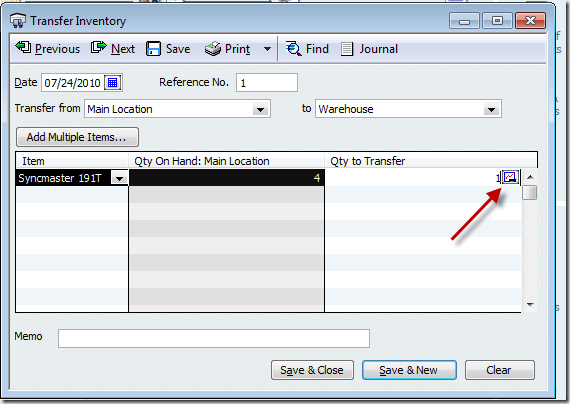 Clicking on the availability graph icon shows you the following useful info: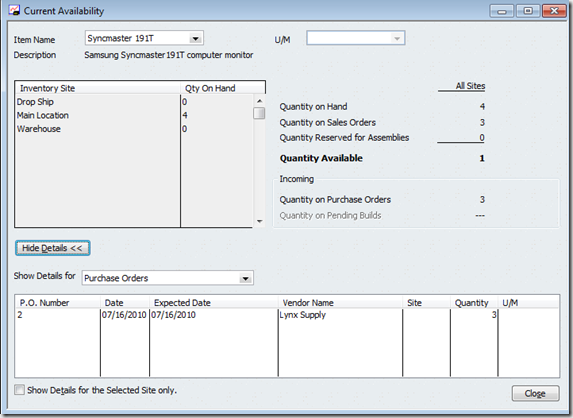 When creating a transaction that involves inventory you will see a "site" selection.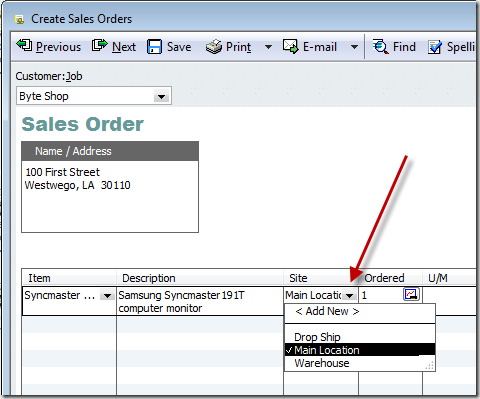 Note that if the transaction is a non posting transaction (like a sales order), you aren't required to enter the site information. If the transaction doesn't actually add or remove items, you don't have to make that decision. However, if you turn that sales order into an invoice you won't be able to save the invoice until you have selected a site for each inventory part and assembly. If you have a large order this can be very tedious. There isn't a way to set the site for all of the detail lines in the order, and there is no "default" site that is automatically used.
Inventory adjustments will ask you to specify a site – and you will see the site information in the lower corner of the screen.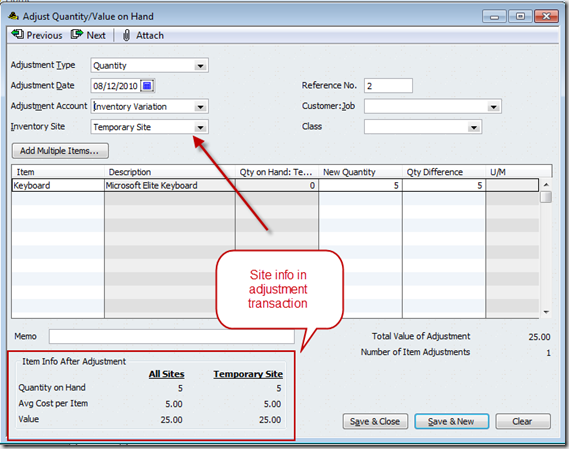 Site Reports
Quantity on Hand by site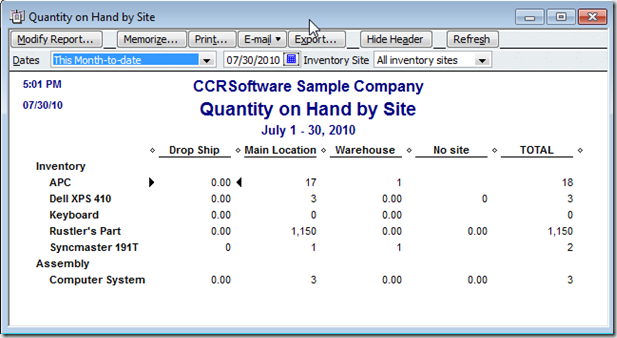 Inventory Valuation Summary by Site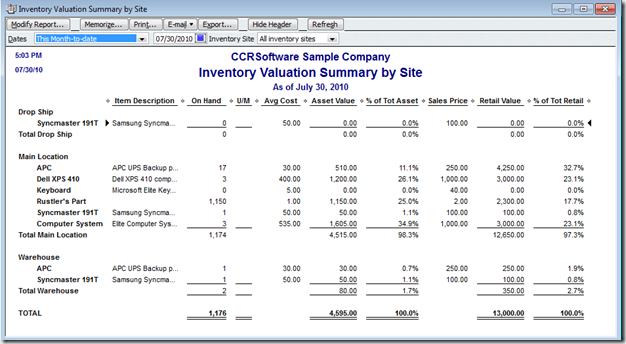 Inventory Stock Status by Site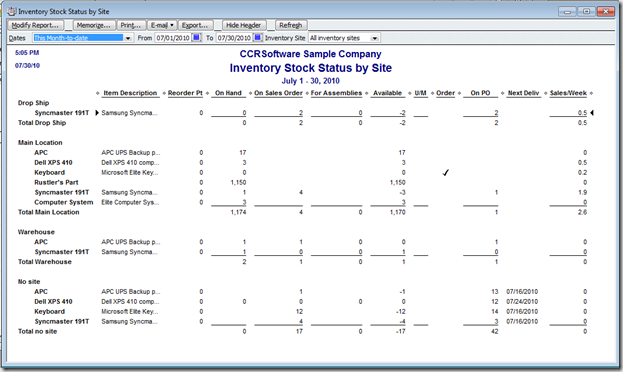 Pending Builds by Site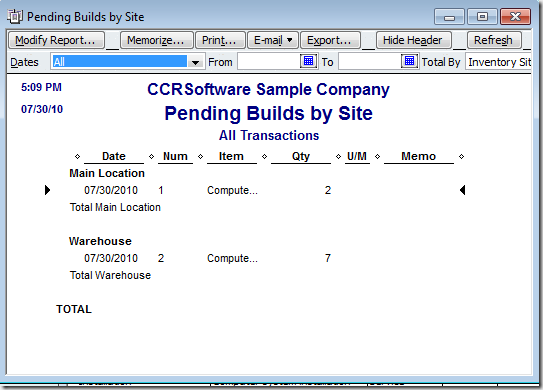 Potential Issues
Third Party Add-on Software: If you are using an add-on product of some sort fro the Intuit Marketplace, be cautious about using this feature. In fact, be cautious about using QuickBooks 2011 for awhile, until your other vendor confirms that everything is OK. This new inventory feature represents a big change in the internal inventory data structure, so if you use a third party add-on product that works with inventory that program might not work with this feature. Early tests indicated that there could be some problems. Contact your software vendor for information on compatibility. Add on applications that add transactions that have inventory lines on them will get a special "unspecified site" added to them. You will  then have to find all those transactions and update them with the right site.
This is also true if you turn off Advanced Inventory, add transactions, and then turn it on again. All the transactions you added when it was off will go to the "unspecified site". This site will be in your site list, but it's not editable.
ProAdvisors: If you are in the business of supporting your clients, this is one more variation that you have to be aware of. At the time I'm writing this it is not clear if ProAdvisors will have to pay for access to this feature or not, althought I expect that it will be something that ProAdvisors will be able to get easily (we should, if we have to support it!).
Internet Access Required: Even though this is a feature in your local database, not an Intuit Workplace application that requires Internet access, you still have to be connected to the Internet. Since it is available for an additional fee, the program must periodically access the Internet for activation. If you have a computer without Internet access you won't be able to use this feature continuously.
Pricing
At the time I'm writing this article the price of this feature is projected to be $699.00 per year.
I'll be interested to see how popular this feature will be. Some people have noted that Enterprise is already more expensive, so why should this feature be available for that high of a price? Others will say that it is a valuable feature at any price.
I'll note that this is a lower price than the Warehouse Management ES product they have been pushing for a year or so – and that the price is per installation rather than per user, which makes it more affordable.  Do you have 20 users? Warehouse Management ES would ramp up to $9100.00 a year while Advanced Inventory is still just $699.00. Of course, the two products don't provide the same features.