When you are restoring a backup copy of a QuickBooks file you often want to restore it in the same place that it existed before. Sometimes QuickBooks will refuse to replace the existing copy – saying that the file is set to read-only. This may be frustrating, but it usually is a simple thing to get around.
You do have backups of your Company file, right? Most businesses don't do an adequate job – please review my article on backing up QuickBooks data for a discussion on how to create a good backup plan.
There are a lot of reasons why you may need to restore a backup copy on top of an existing file. You may have a corrupted file and have to go back to an older version. Perhaps you were testing a new procedure and you want to restore your file to the state it was in before the test. The problem is, in many situations QuickBooks will set the existing file to "read only" status and show you an error message when you try to restore the file in the same place.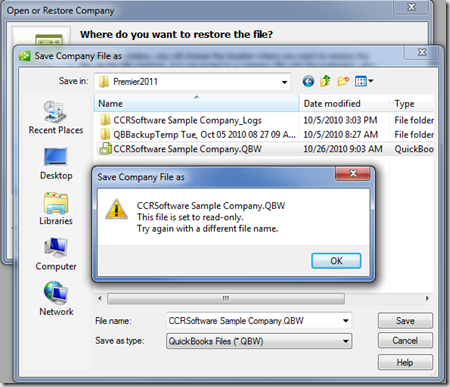 One simple solution is to just save the file in a different location, OR with a different name. I don't like that, though, because now you have TWO copies of your company file, and it is easy to get them confused. You don't want to post transactions to the wrong file!
If you are familiar with Windows and know how to find a file and change the status with Windows Explorer, it isn't hard to change the status of this file. However, it is a bit of a hassle to do this. In addition, most users of QuickBooks are focused on running their business, rather than being a computer technician.  So here is a simple process that isn't TOO technical…
When you choose to restore a backup, QuickBooks will open the Save Company File As window. Locate the company file you are replacing, then right-click on the file name. This will open a menu.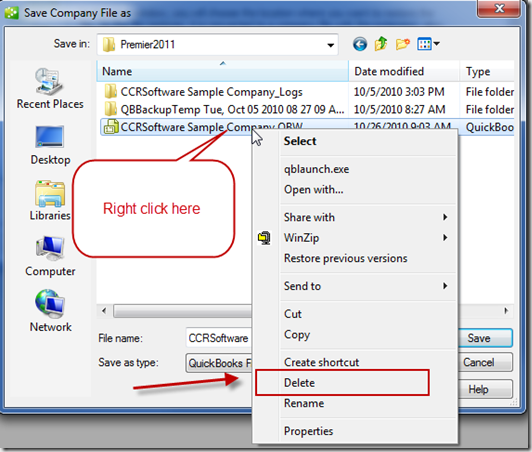 Select the Delete option from this menu, which will delete the existing file. Then you can click on the Save button to save the file in this location.
I find that this is much simpler than going to Windows Explorer.