I don't have a lot of taxable sales in my business, so I only have to report my sales tax to California once a year. Throughout the year I just merrily go along entering my sales into QuickBooks, and in January I run my Sales Tax Liability report. I use that report to fill in the values of my State tax report. QuickBooks makes it simple! However, THIS year, I ran into a problem. The total sales on my Sales Tax Liability report didn't match my total income on my Profit and Lost statement. What do I do?
I believe that I understand QuickBooks very well, and I understand the rules for California sales taxl. I even understand how sales tax should be set up in QuickBooks very well. However, at first, this threw me a bit. How does this discrepancy happen, and how can I fix it? I've not run into this issue before.
The solution was simple – pull out my copy of the QuickBooks 2010 Solutions Guide
by Laura Madeira. There it is – a section titled Reports to Review When Troubleshooting Sales Tax Errors. Skimming through that section, I found When Total Sales Does Not Match Total Income. PRECISELY my problem!
There were three things to look at:
Different accounting basis between reports.
Non-sales form transactions recorded to income accounts.
Income recorded as a result of vendor discounts.
In my case, the first and last of those don't apply. So, looking at non-sales form transactions, Laura lists the specific steps to take to find the errant transaction.
First, in the Profit & Loss statement, double click on the Total Income value. This opens a Transaction Detail by Account report.
In the top of the report window, change the sort by value to Type. Within each account listed the transactions are listed by type.
Sales tax reports look ONLY at sales forms, such as invoices, credit memos and sales receipts. So what I'm looking for are transactions in the sales total that are NOT one of theses types. Sorting by type makes it easy to look for these kinds of transactions.
Sure enough, there it was – a Check showing up in my income total.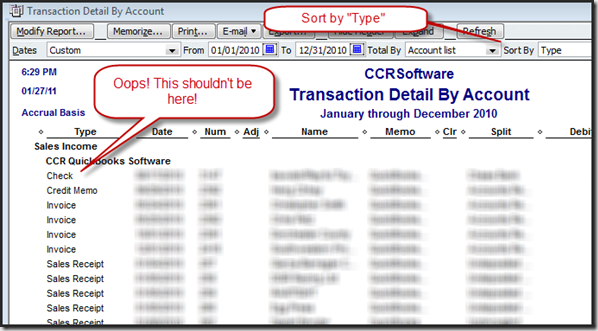 I was fortunate in that this check was the only transaction that was in error – the amount matched the difference between the two reports exactly.
Why did I have a check here? Well, I'm getting old, so I goofed. I gave a client a refund, and instead of creating a credit memo, and writing a refund check from that, I wrote a check directly to them and directed it to the sales account that I was reversing. Oops! I know that I shouldn't do that, but I was probably in a hurry.
It was a simple fix, and I'm very grateful to Laura's book for pointing out this very simple and direct way to locate the source of the problem. Thanks, Laura!