As Intuit continues to focus on QuickBooks Online, every year people ask me "Is QuickBooks Desktop Dead?" As I've done in years past, I've taken a look at Intuit's fiscal year end financial statement for Fiscal Year 2018 to see how QuickBooks Desktop is doing in comparison to QuickBooks Online. Here's my look at Intuit's Fiscal Year 2018 information.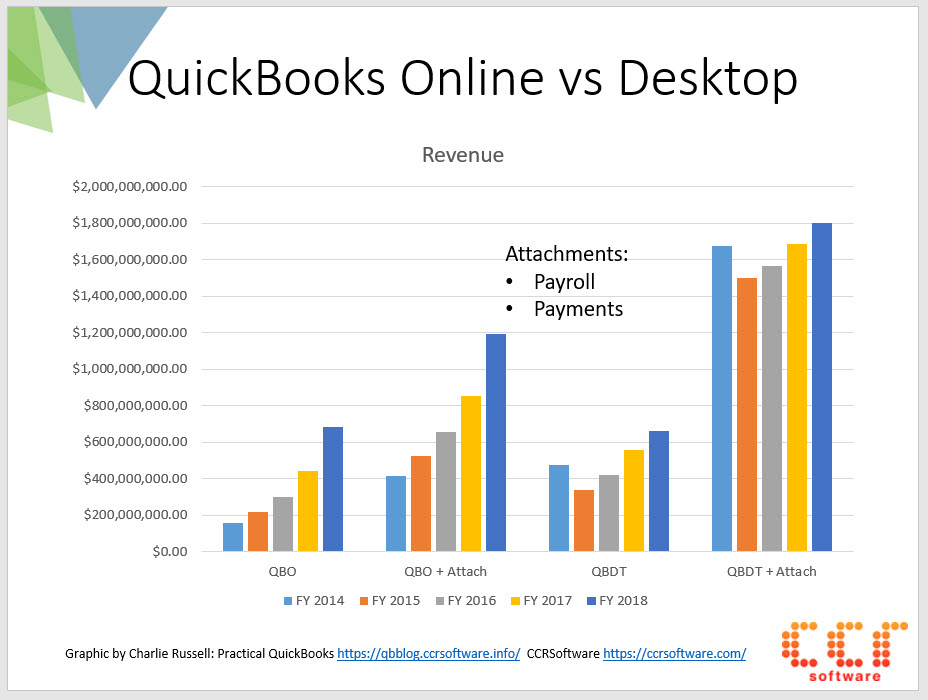 "QBO" is revenue generated by QuickBooks Online subscriptions. "QBDT" is revenue generated by QuickBooks Desktop subscriptions and unit sales (Pro, Premier, and Enterprise). The columns that add "Attach" is showing the revenue from the QB product and any "attached" revenue, such as payroll subscriptions, fees for QuickBooks Payments, sales of forms, any other kind of revenue that can be associated with that sale or subscription of the accounting product.
From what I see here:
QuickBooks Online revenue (without attachments like payroll, other services) has, for the first time, surpassed QuickBooks Desktop revenue. This is not surprising to me since Intuit has been saying that "the future is online" for many years now. I think that they have been surprised that it has taken this long
QuickBooks Desktop revenue, when you include services like payroll and other add-ons that Intuit uses to generate revenue, still is significantly higher than QuickBooks Online revenue with services.
QuickBooks Desktop revenue continues to grow. Intuit doesn't provide a breakdown of this revenue stream, so I can't say what portion comes from Pro, Premier or Enterprise.
There is no doubt that Intuit is focused on developing QuickBooks Online. They've been saying that development of online and mobile products is the most important thing for them in the future. However, what this simple look at their financial statements tells me is that QuickBooks Desktop revenue is still an important factor for Intuit, so I don't see them dropping the product at this time.