Intuit has started shipping QuickBooks 2009 today, and there are many new features. Today I'll briefly describe some of the features that I feel are very important. An in-depth treatment of some of these features will be coming soon.
Multi-Currency Support
Support for Larger Numbers
Company Snapshot
Multi-User Enhancements
There are quite a few additional items beyond what I list here. If there are features you've heard about and you want me to review them, please leave a comment below or send me an email and I'll add that to my list to review.
One of the changes that you may notice is that they are starting to change the "branding" of the product from just "QuickBooks" to "Intuit QuickBooks", with an increasing emphasis on the "Intuit" name.
Multi-Currency Support
QuickBooks finally recognizes that we have a world economy! For years the only way that you could enter transactions in different currencies in QuickBooks was to buy the Canadian edition, which didn't work very well for most US based businesses. With this release we finally get multi-currency support in the US editions. If you work with foreign currencies this could save you a lot of heartache. HOWEVER, note that working with multiple currencies and your bank can be quite a complicated proposition. You will need to talk to your CPA about how to handle a number of issues.
Support for Large Numbers
This one goes hand in hand with multiple currencies, although I have seen some comments from US-only firms that have run into this.
In the 2008 and older versions there were limits to the number of digits that you could have in the quantity, rate and amount fields in invoices (actually, any place in the program that has quantity or amounts). The limits were:
9,999,999.99 for quantities
99,999,999.99 for amounts
In the new release we see:
9,999,999,999.99 for quantities
9,999,999,999,999.99 for amounts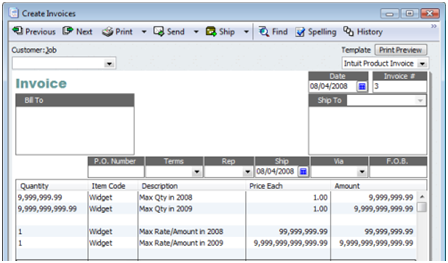 Unfortunately, they haven't opened up all of the limits. You still can't have a unit of measure conversion that exceeds a 1:5000 ratio.
Company Snapshot
This is a very nice feature that can give you a good overview of your company and its current business status. Here is a quick screen shot of this feature: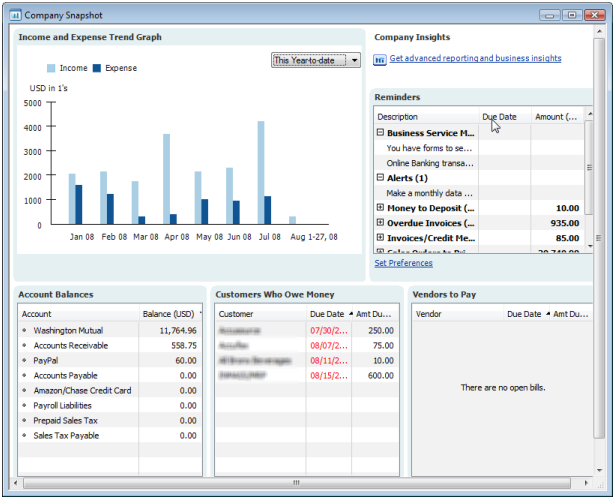 Multi-User Enhancements
QuickBooks is a good basic multi-user accounting system, but there is always room for improvement. Here are a few highlights of the changes in the 2009 release:
Performance: We should see fewer (they say "none") of the dreaded "Server Busy" messages that you sometimes get in multi-user situations. I can't testify to that, as I couldn't give this a good multi user "stress test".
Read Locks: This is a big one, although I don't know how far they have carried this through. I'll give an example. Before this, if you wanted to use the Adjust Quantity/Value on Hand window you had to change to single user mode. VERY annoying. With this update you can do these adjustments in multi-user mode, which is far more convenient. There are still some restrictions, but they are very reasonable.
Multi-User Backup: You can perform a QuickBooks Backup without having to kick out all of the other users! I'm still investigating this one – it doesn't handle all of the complaints that I've seen – but it will be a great improvement.
QuickBooks Messenger: Have you ever had to run around the building trying to find everyone who was using QuickBooks to tell them to get out so you could do something that required single user mode? Now we have QuickBooks Messenger, a way for users to see

who

is logged on, and to send them messages!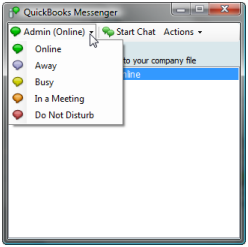 More Details Soon
In the next few weeks I'm going to review some of these features (multiple currencies and multi-user enhancements, at the least) in more detail. If there is a particular feature that you would like me to expand upon, leave a comment below.
One of the big questions that always comes up – "should I upgrade to this version"? If you purchased your copy of QuickBooks in the last 30 or so days then you should call them and ask about getting a free update. If you are on a service contract with them you probably will already get a free update. A better question should be "should I install this new version"? That is always a hard decision. If you have a compelling need for any of these new features then you definitely should, BUT keep your old version installed and make backups before you update your company file, just in case. If you don't urgently need the new features, I usually recommend waiting a bit of time until the first round of revisions come out. Bit updates like this one tend to have a few problems that aren't apparent until many thousands of users have installed them on all of the various kinds of computer systems that are out there. Intuit does a very good job of running field tests before they release these versions, but it is hard to catch all of the problems right away.
If you install the new versions, leave a comment as to what you think about it!