One of the new features introduced in QuickBooks 2009 is the QuickBooks Messenger, a feature that helps with communication between QuickBooks users in multi-user environments. I'll give you a brief overview, talk about what it can do and some of its shortcomings, and also talk about how to disable it if you don't want it.  Updated 1/5/2009
Prior to the 2009 release, if you had a multi user installation the only way that you could tell if other users were using a company file would be if the program wouldn't let you switch to single user mode, or by pressing F2 and looking at the # of Users Logged In counter. With this release we now have QuickBooks Messenger, a function that lets you see who is logged in, chat with them, and perhaps even log other users out so you can perform important single user functions.
When you are running in multi user mode and another user logs in, you will see a "popup" display in your lower right computer screen that looks like this: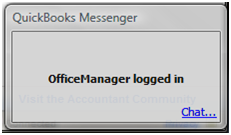 OfficeManager in this case is the login name of the other user, and any user already logged in will get this notice. See the Chat link? If you click that a chat window opens and you can exchange notes with the other user.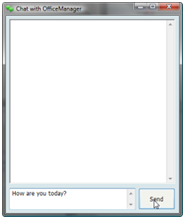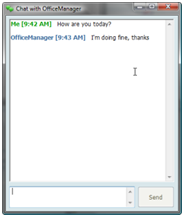 You can also open this chat window by clicking the Chat with coworker option in the Company menu, or by right clicking the green QuickBooks Messenger icon in your Windows tooltray.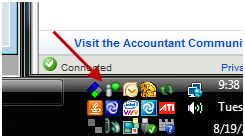 In the first release of QuickBooks Messenger I've seen some problems with accessing features from the tooltray. For example, sometimes the list of users is not always up to date. Opening the chat window from the QuickBooks menu seems to be much more reliable. 
User Status
From either the chat window or the tooltray icon each user can set a status flag that tells other users that they aren't to be disturbed, for a variety of reasons.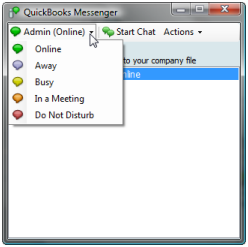 Unfortunately, people can easily ignore the status of another user. If you have your status set to "Do Not Disturb", everyone else will see that status by your login name, but they can still open chat windows with you and the announcements pop up on your computer. I'd rather have this prevent others from bugging me unless they are an admin user with priority. 
Administrative Functions
The real power of this feature, in my mind, comes with the features only available to the admin user. This user is the only one that has the Actions menu.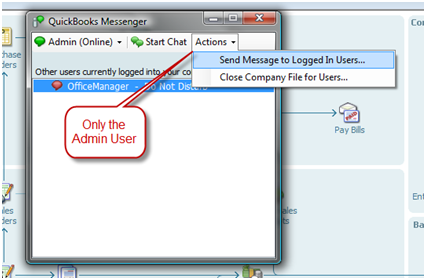 Do you need to shut down the system for a backup, or server maintenance? Do you need to move to single user mode to adjust inventory? Send a message to all logged in users. You will get a list of all of the users on the system, and you can select which should get the message.
Ready to shut down the system, and someone still is logged in? Perhaps they left their desk, perhaps they went home for the day and left their copy of QuickBooks open (a very bad habit). In earlier versions of QuickBooks you had to run around to all of the workstations to find who was logged on, and get them out. That can be very time consuming. With QuickBooks Messenger you can close the company file for users – again with the option to select which users.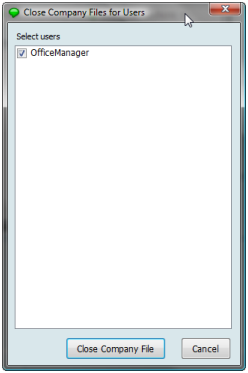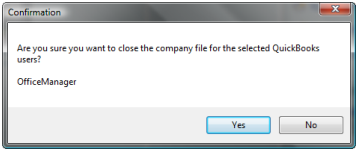 Limitations
The biggest limitation that you will run into is that this only provides communications between users who are actually logged in to the same Company file. If two users are logged in to separate files they cannot communicate. If you are not logged in to any company file, you cannot communicate. In some offices this will limit the usability of the product for things like telling people that you are going to perform maintenance on the serve, or to stay out of the company file because you want to do some work with it.
Also, when you log someone off remotely, nothing prevents them from getting right back in to the company file (unless you have quickly changed to single user mode). Of course, you are notified that they are back in, but this can be annoying.
As mentioned before, setting your status to "do not disturb" has little value, since others can ignore that and send chat messages to you anyways. There should be at least one status that lets you block out everyone else (except perhaps the Admin user).
Problems
In the Intuit Live Community user forums I've seen a number of people complaining about QuickBooks Messenger. We often see this with new features – people aren't used to it, they don't understand it, they don't want anything new. In some cases this may be true here – if you don't understand how this works or why you might use this (particularly the admin functions) then it may just seem to be an annoyance.
However, there are some real problems for some users:
Windows XP and Vista are Preemptive multiuser systems – so a program can take over control of the keyboard from another program easily. This sets up a situation where you can be typing information in a program and then have the Chat window pop up and grab those last several words you typed in. This can be annoying at the least, it can reduce productivity if you have a lot of people who are logging in and out, or who are just plain chatty.
Everyone sees who is logging in and when they are on the system. As an administrator that might be very useful. For some people it creates an annoying view of their activities that they don't want others to see. You may find people leaving their computer logged in to QB longer than necessary so that others think they are working even when they are taking a break, and that can be a security issue if you have information that should be protected in the office.
In some offices having this chat window available leads people to engage in time wasting notes back and forth, interfering with the work that they should be doing.
In some larger companies there are requirements that all interpersonal communications be logged and archived, and QuickBooks Messenger doesn't provide the company with this kind of feature. Using it can be against company policies.
Disabling QuickBooks Messenger
Starting with the R4 release of QuickBooks 2009 Intuit has added a setting that lets you disable QuickBooks Messenger easily, as I describe in this article. This is a great improvement.
If you have an earlier release then the following steps can be used to disable the Messenger feature – although I highly recommend that you update to R5.
To disable in R1 through R3:
Look for a file named QuickBooksMessaging.exe in your QuickBooks program folder. For Premier on my system the folder is C:\Program Files\Intuit\QuickBooks 2009. You will find the program there.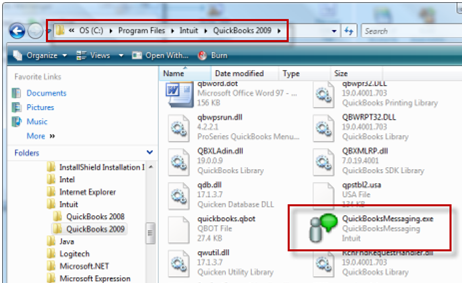 Make sure you are not running QuickBooks. Right click on that file and select rename and change the name to something like holdQuickBooksMessaging.exe. I recommend that you do

not

erase this file, in case you find that you want it later on.
When you restart QuickBooks the program will not start the Messenger service. Note that you will need to perform this on each computer running QuickBooks.
You can still see how many users are online by pressing F2 in QuickBooks and finding the # of users logged in label: