QuickBooks will automatically generate the next sequential invoice number when you are creating invoices. In some cases, though, you may want to have more than one sequence of numbers. Perhaps you have two divisions of your company, each with its own invoice numbering. Or you want to track classes of sales – with one sequence for retail sales and another for wholesale sales. This is easy to set up in QuickBooks.
Invoice Numbering Basics
If you save an invoice in QuickBooks, the next invoice that you create will have the next sequential invoice number. Save invoice "1", the next will be invoice "2". QuickBooks is smart enough to work with modified invoice number formats. If you save an invoice with invoice number "Counter 001", the next invoice will be "Counter 002". If you use "123abc" then next number will be "124abc".
This sometimes creates some confusion – someone may accidentally add a character to the end of the invoice number, then all subsequent invoices will continue with adding that character. The simple solution is to create and save a new invoice, editing the invoice number to not have the letter.
I'll also note that in some rare occasions I've heard of people who have a QuickBooks company file where the auto sequencing doesn't work – I've not been able to pin down why that might happen (I've not gotten my hands on a file that shows this problem).
Setting Up Multiple Sequences
What if you want to have two (or more) sequences, as I described above? I might want one sequence for retail sales, where the sequence starts with "R001", and another where the sequence starts with "W0001" for wholesale sales. Keeping track of two sequences and remembering which is the next number can be difficult.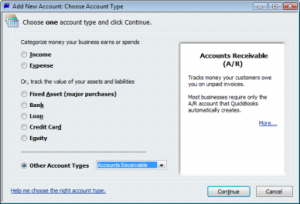 QuickBooks can do this – create a second Accounts Receivable account in your chart of accounts.

Once you have added another A/R account you will see a dropdown box titled Account on the create invoice screen. This allows you to select which A/R account to use for this invoice.
Each A/R account has its own numbering sequence. All you have to do is to save an invoice using that A/R account, with the starting sequence number you want to use.
Things to Watch Out for
I would like to point out a few things to take into consideration:
You have to be careful that you are selecting the proper A/R account when creating a new invoice. Your workstation will remember the last A/R account you worked with.
When you are scanning through invoices with the Previous and Next buttons, you will scan through the invoices

for the A/R account you specify

. That can be confusing sometimes. You have to select the A/R account to work with, then scan through the invoices for that account.
The Payments Receipts window will now show the A/R account dropdown – so you can only apply a payment to one A/R account for a customer. If you have different A/R accounts for the same customer, one payment can't easily be applied to invoices from different A/R accounts.
If you use Multiple Currencies this gets a bit complicated. Each currency you work with must have a separate A/R account for that currency. Unfortunately, that means you have a different invoice number sequence for each currency. You can create multiple A/R accounts for a currency. However, if you want just one sequence across all currencies, I've not found a way to do that.
I hope that this helps – if you have any questions please feel free to leave a comment!
Category: Invoicing
Charlie Russell is the founder of CCRSoftware. He's been involved with the small business software industry since the mid 70's, focusing on inventory and accounting software for small businesses. Charlie is a Certified Advanced QuickBooks ProAdvisor. Look for Charlie's articles in the Accountex Report blog, as well as his California Wildflower Hikes blog.