This is an improvement that is long overdue. The Adjust Quantity/Value on Hand has been one of the poorest functions in QuickBooks for years, and with this release they have made a dramatic improvement in usability.
PLEASE NOTE that much of this is based on information from an early release of QuickBooks 2011 – it is possible that some features may vary from what is described here.
For years we have been struggling with the Adjust Quantity/Value on Hand function. This is a screen shot of what we had to work with: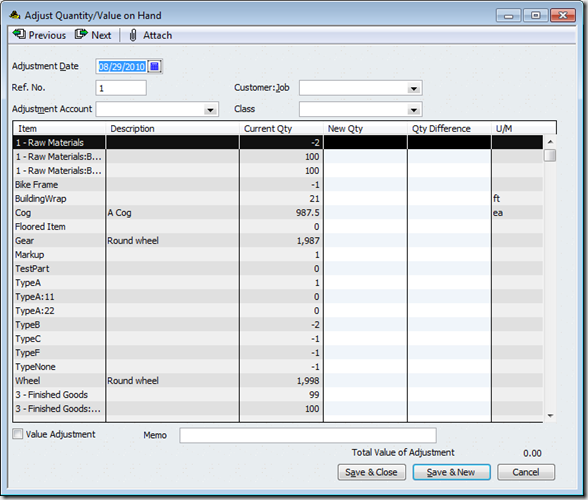 The most frustrating part of this, to me, was that there was no search capability here. You have to scroll through the list to find an item – and it lists inventory parts first, then inventory assembly items afterwards. Very inconvenient.
Here is the screen for the same function in QuickBooks 2011: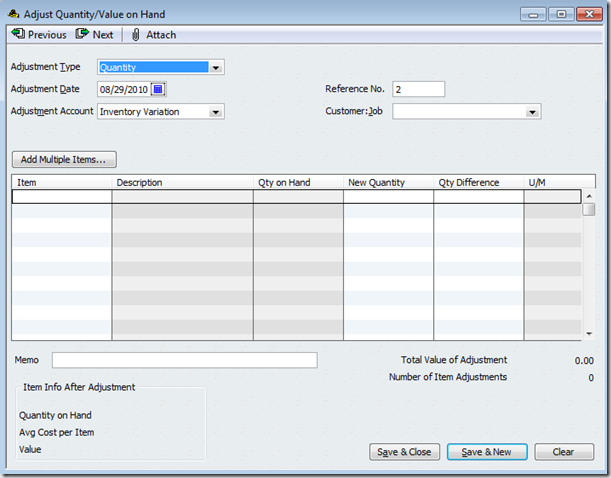 As you see, no items are listed? You can add items by using a dropdown list in the item column, just like you would do in an invoice or a purchase order.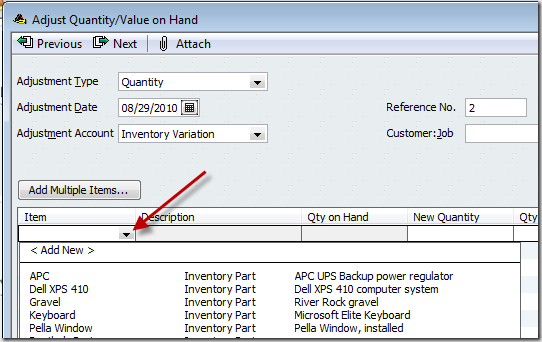 From this window you can add a new item to the item list, which will help some people.
If you click on the Add Multiple Items button you have a window that lets you easily select multiple items to adjust: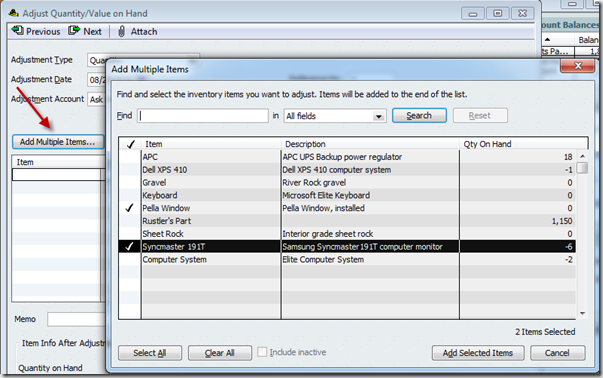 In the initial release, the List Selection feature (such as you have in invoices) doesn't work. This may be fixed by the time this article is published, hopefully. You should be able to press ctrl-L to open the item list, then ctrl-U to insert the selected item into the transaction. This didn't work for me (the list opens, but the item isn't inserted). This feature works for other fields in the window (adjustment account, customer), so I expect this to be fixed soon (if it isn't already).
You click a dropdown list to select the type of adjustment.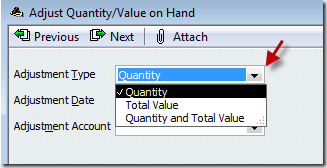 This is an improvement that should have been done long ago. It will be very welcome by anyone who has a large item list and must enter adjustments often.