If everything is working perfectly in your QuickBooks company you won't need to worry about making inventory adjustments. You will receive inventory items, sell inventory items, possibly even build inventory items (assemblies), and everything will balance out. If that describes your company, great! For the rest of us, though, there are times when we will need to make inventory adjustments. The most common question I run into here is "do I make a quantity or a value adjustment?"
When to Adjust
There are a lot of reasons why you might have to make an inventory adjustment. For example:
Damage or Theft: You can lose items if they are stolen, or if they are damaged in an accident or catastrophe.
Physical Inventory Adjustments: You may count the items that you have and find that there is a discrepancy between your count and what the computer says. Variations don't always indicate a problem, it could just be a low cost bulk item that you don't have to control very tightly.
· Data entry errors when you start up a new file
These are just a few examples, there are hundreds more. If you find that you need to change your count, or the value of your inventory, you need to make an inventory adjustment.
To make an adjustment you can select Vendors, then Inventory Activities, then Adjust Quantity/Value On Hand. Alternately, from the Item List, click the Activities button and select Adjust Quantity/Value On Hand.
The Adjust screen is one of my least favorite screens in QuickBooks. It allows you to enter adjustments for any or all of the inventory part and inventory assembly items in your item list. If you have a small list like what is shown here, it isn't too bad. If you have hundreds or thousands of items it can be very difficult to work with, because it does not provide you with an easy way to locate a particular item.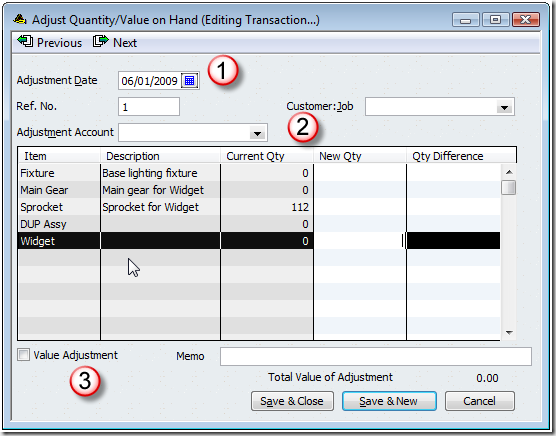 A few key things to point out here:
The adjustment date is critical. Any adjustment you make takes place on this date. If you are increasing items, they aren't available until this date. If you enter a date in the future you won't be able to use these items in a transaction that has an older date. If you use a date in the past then QuickBooks may adjust your Cost of Goods Sold values (if you are making a value adjustment), and if you are going back to an earlier accounting period that might not be a good idea.
The adjustment account is important in several ways. Obviously, any financial effects of your adjustment will be posted to this account. Less obviously, if you are trying to find an adjustment that you already entered, the previous and next buttons will only scan you through the adjustments for the account that is showing here. That can be frustrating if you are trying to find an adjustment and you can't remember which account you used.
Value adjustment is checked if you are making (big surprise) a value adjustment. This has a major impact on how the adjustment affects your financial statements – I'll discuss this in more detail below.
Quantity Adjustments
If the value adjustment box is not checked, you are making a quantity adjustment. The window appears as I've shown you above. This is the most common kind of adjustment that you will make in QuickBooks. You will use this to adjust the quantity of the items you have on hand.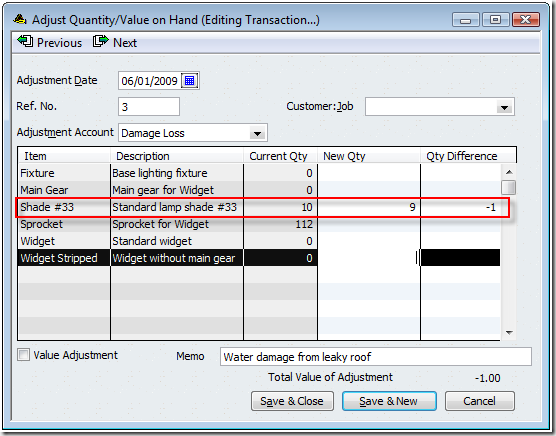 I had 10 of the shade item on hand, but one was damaged in a storm. I enter either the new quantity and let QuickBooks calculate the difference, or I enter the difference and let QuickBooks calculate the new quantity.
QuickBooks is a double entry accounting system, so the adjustment is always going to balance a change in the inventory asset account against the account that you select. In this example this is a decrease in the quantity that I have on hand. That means that my inventory asset account (as specified in the item record) is reduced by the average cost of the item multiplied by the adjustment quantity, and that value is moved into the adjustment account I specified. In this case, I picked an expense account for damages. Most common adjustments are going to involve an expense or COGS account, usually.
Why do you need to enter an account to post against? Well, you can't just add or subtract inventory items without some explanation. Changing the quantity will change the value of your inventory assets. If you are removing inventory because someone dropped an item and broke it, you have to reduce the value of your inventory (the inventory asset account) and then offset that in some matching account, such as a "damaged goods" expense account.
The keys to remember here are:
The quantity is changed.
The accounts are adjusted by an amount equal to the quantity multiplied by the average cost of the item. You are adding or subtracting value in your inventory asset account, and offsetting that in an expense or other kind of account.
The date is critical, because you may be changing the balance on hand for a date in the past. This can change inventory valuation calculations, turn "build" transactions into pending builds, and more.
Value Adjustments
In the normal course of business it is unusual to make a value adjustment. I'm not a CPA or tax accountant – you should talk to your advisor before making this kind of adjustment. Usually when I see someone trying to make a value adjustment it is because the either don't understand what is going on, or they are trying to correct an error that should actually be corrected by finding the original transaction and correcting the error there.
When you check the value adjustment box you can now enter not only a new quantity, but a new value for this item.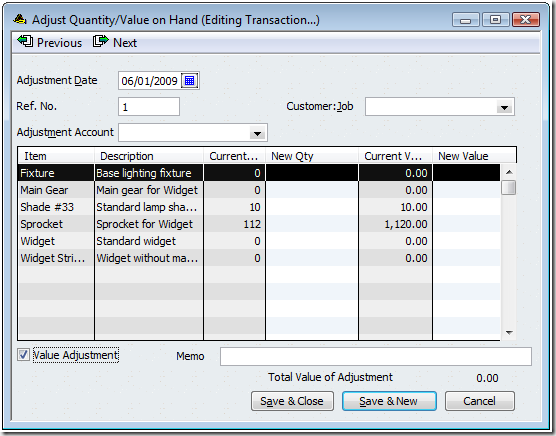 This kind of adjustment will change the average cost calculation for the items you adjust. QuickBooks will take the new quantity, the new value, and calculate the new average cost by the following formula:
Avg cost =  (original value + difference in value) /adjusted qty on hand
In some ways this is the equivalent of hitting the QuickBooks inventory valuation system over the head with a baseball bat. You are (potentially) revaluing your inventory – creating (or losing) value in your inventory asset account AND recalculating the average cost of the items you are adjusting. This may be tempting, but I recommend that you do NOT do this unless you are really sure it is what you want.
If you feel that the average cost is not correct, you can enter a new value for the item. Note that the difference in the value is going to be posted to the inventory asset account and the selected account in this transaction. You can't just create (or lose) inventory value, you have to post it somewhere.
Again, if you think that there is an error in your inventory valuation, it is probably because you have an error in an item receipt. Find that item receipt and correct the problem (if it is fairly recent), rather than making this adjustment.
The date is VERY critical here. You are changing the average cost of the item on the date you have entered. If this is a date that is in a prior accounting period you could be changing your financial statements, and that might not be a good thing to do.