Two significant changes in QuickBooks 2011 are the Quick Startup feature (which improves the startup speed for QuickBooks) and the Multiple Instances feature (allowing two company files to be open at the same time). I'm recommending that you be cautious with these features until you understand the impact they will have on your use of QuickBooks.
This article was updated on 10/05/2010
Multiple Instances
When some people saw this listed as one of the improvements they let out a loud "Hallelujah". Many people have been asking for the ability to open two or more QuickBooks company files at the same time. Is the multiple instances feature of QuickBooks 2011 the feature we have been waiting for? I'm afraid that many people will be disappointed.
We've been able to open two company files at the same time before this, but with big restrictions. You can open a QB 2010 file and then another file of another year, no problem. But not two files of the same year. I use VMWare virtual machines quite a bit to have multiple copies of QuickBooks open at the same time, but that is technically complicated to set up and it doesn't work well unless you have a very high powered computer (lots of RAM, lots of disk storage, 64 bits, and so forth). Then there is the ever popular option of just having two computers on at the same time.
So, now comes QuickBooks 2011 and the Multiple Instances feature. Note that this feature is only available in QuickBooks Enterprise 11.0 (any edition) and QuickBooks Premier Accountants Edition. If you have a QuickBooks 2011 company file open you can start a second copy of QuickBooks at the same time. The first will be called your Primary file, the second your Secondary file.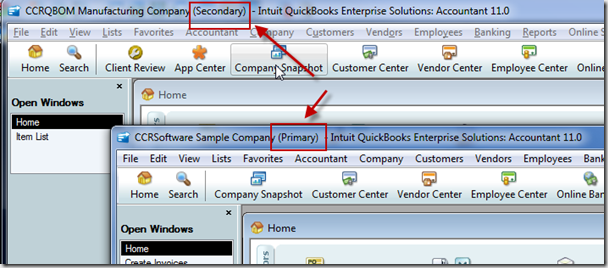 This is exciting! Well, it is, until you find out that there are restrictions to what you can do.
The following is a partial list of restrictions on both the primary and secondary file (a full list is found in the Help file):
You cannot

use

any application that uses the QuickBooks SDK
You cannot manage fixed assets
You cannot use the Intuit Statement Writer
You cannot install Intuit Workplace IPP applications
You cannot register QuickBooks or manage/change licenses
You cannot install a QuickBooks update
The restriction that can be really tricky is the first – not being able to use applications that use the QuickBooks SDK. Many businesses rely on SDK based applications to provide vital features and functions, and you won't be able to use any of these if you have two company files open.
The following is a partial list of restrictions on the secondary file (a full list is found in the Help file):
You cannot use the Loan Manager
You cannot manage currency
You cannot prepare letters with envelopes
You cannot us the planning and budgeting tools
You cannot use the Collections Center
You cannot perform many credit card processing activities found in the Customer Center (see the list in the QB 2011 help file for details)
You cannot "Send Forms" from the File menu
You cannot use the Shipping Manager or do many shipping related functions)
You cannot pay employees (Payroll)
You cannot add, edit or delete payroll items
QuickBooks Messenger only works with the primary file.
You cannot manage Templates in the Template List window
QuickBooks Help will only work with the primary file
Updated 10/05/2010: For ProAdvisors we have another restriction. If you open a company file with Enterprise 11, and then a second company file with Premier 2011, the file restrictions are in place just as if it was two copies of Enterprise or two copies of Premier. You still have one file set as the primary and the second as the secondary.
As I see it, there are two kinds of users who want to be able to work with multiple company files at the same time. Business users may need to manage transactions that relate to two files, making adjustments to inventory or managing bills and payments. In this situation, multiple instance should work. This is a fairly restricted use in that you aren't doing a lot of management processes. One of the features that is missing in multiple instances is that you don't have a way to transfer information easily from one company file to another.
The other kind of user is an accountant, bookkeeper or someone else who is managing multiple company files for clients. Given the long list of restrictions, and the fact that you can only have two company files open at a time, I believe that the usefulness of this feature is severely limited.
If you are a ProAdvisor or other recommender of QuickBooks, don't tout this feature to your clients until you are sure it will work in their situation. I'm particularly worried about the limitation on SDK applications – you may tell someone that they can have multiple files open, but they'll complain to you when they can't use an add-on that they are depending on. You have to know what your clients are doing…
Quick Startup
As QuickBooks becomes larger and larger, more people complain about how long it takes to actually be able to use the program once you click the icon or Windows menu listing. With the 2011 release (including Pro, Premier and Enterprise) Intuit has come up with a way to speed things up.
Looking in your General Preferences you will see a new option, Keep QuickBooks running for quick startups.

When this feature is enabled you should notice that the program starts much more quickly. How much faster will depend on your computer system. In my test system the difference was not that noticeable, but I have a very fast computer with lots of RAM and a highly optimized hard drive system. Many factors can come into play – access over a slow network, available RAM, type of processor and more.
How do they accomplish this improved start speed? By keeping a portion of the QuickBooks program running as a process even when you exit QuickBooks. On the surface, this seems to be a fairly benign way to resolve the problem for some people. But is it?
I have one concern at this point. This takes up RAM (computer memory) and could impact how fast other programs run when you have exited QuickBooks. A portion of the QuickBooks program stays in memory as a "process", and that consumes computer memory. This memory is then not available to other programs that you may want to run. If you have a computer with a small amount of RAM, or if you are running a large number of programs simultaneously, performance of your compute may be impacted by this option.
If you look at your computer using the Processes tab in the Windows Task Manager, you see that the QBW32.EXE process stays in memory even when QuickBooks is not running.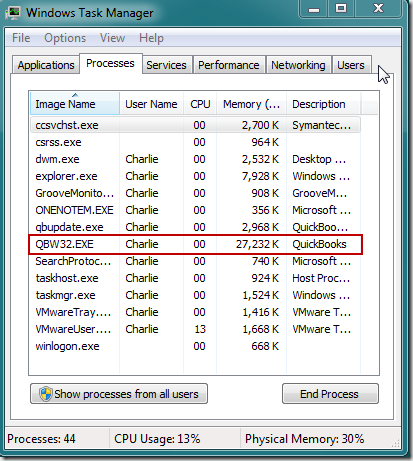 This happens even if you reboot the computer, although my initial tests show a lower amount of memory being consumed when you reboot, prior to the first time that you run QuickBooks.
The good news is that Intuit has made this an optional feature – so we can disable the feature by turning it off in your preferences. I've tested this, disabling the feature works very reliably.
SO far, after over a month of running with this feature, I haven't come up with any other issues.