For some reason I've been seeing a number of errors with QuickBooks 2010 (and Enterprise v10) lately, on computer systems that have never had issues before. I'm not sure why these have been popping up, but several of my clients have been reporting them. This week I'll talk about error 80029c4a.
Recently I talked about errors 1328 and 1603 which prevented me from installing an update. On several systems I ran into additional errors. Unfortunately at this time I haven't been able to pin down if these are related to the R9 update or not – I suspect that it might be as I usually have all of my 2010 clients upgraded to the latest release. Interestingly, I've only seen this issue with Enterprise clients.
When starting QuickBooks the following error message displays: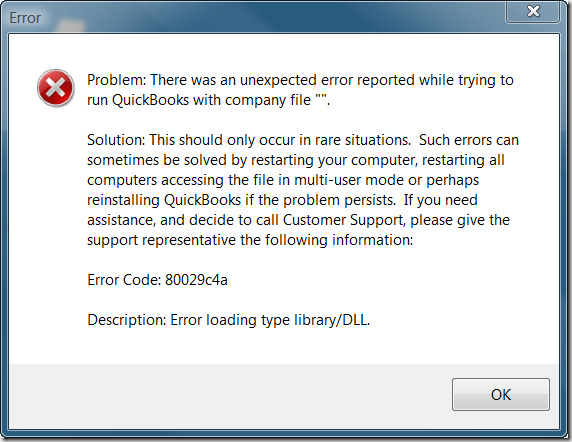 Clicking "OK" here usually generates another error that will specify the particular DLL that has the problem – it isn't important which one it is.
Intuit's suggestions for fixing this are to try, in sequence:
Rebooting your computer.
Updating to the latest release.
Running "reboot.bat".
Restarting QuickBooks
Reinstalling QuickBooks if the problem persists.
Rebooting Your Computer
In the case that I'm using as an example here, rebooting didn't resolve the problem. In one client site this helped. This was a client who rarely reboots, always has the computer "sleep" instead. I like to reboot my systems fairly often, to clear out problems that tend to accumulate in memory. It is a simple thing to try, though.
Updating to the Latest Release
This is always a good idea if you are running into problems – as long as you are careful. QuickBooks provides free updates during the life of the product (about three years), which can either be installed automatically or at a time of your choosing. BE CAREFUL with this in a multi-user situation – as all users should be (and sometimes must be) on the same release. If you update your computer to a newer release you may force other users to update, and that can be a bit chaotic if you try this at a busy time.
In my sample system, the program was already updated to the R9 release (the latest available at this time), so I didn't try this step.
Reboot.bat
When you install QuickBooks it places a small batch file in your Program Files folder named Reboot.bat. Each version/installation of QuickBooks will have it's own copy of this file.
This file contains a number of command line programs that will go through and reset the Windows registry settings for all of the components that QuickBooks uses. Normally this is taken care of by the installation program when you install QuickBooks. However, sometimes Windows will lose or forget some of these registry settings. Reboot.bat makes sure that everything is "registered" correctly.

This is usually a fairly benign procedure – you aren't changing releases, you aren't uninstalling things. You are just making sure that the components of QuickBooks are registered properly with your operating system.
Before you run this make sure that all copies of QuickBooks on this computer are not running. If this computer happens to be the host for the database in a multi user environment, you need to have all QuickBooks users exit the program as well. In addition, make sure that you are logged on to Windows as a user that has administrative privileges.
To find this file, open Windows Explorer and find the folder for your product in Program Files. Note that if you have multiple QuickBooks products installed you must use the folder that matches the product that has the problem.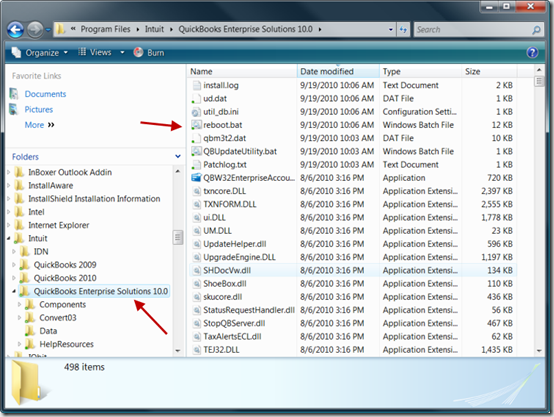 Find reboot.bat, double click on it to run it.
I will usually restart the computer after running this, although Intuit doesn't state that this is required.
Unfortunately, in most cases, this step did not resolve the problem. I do recommend that you try it, however, as it doesn't take much time.
Reinstalling QuickBooks
This seems to be the best way to resolve a number of problems lately, as I've mentioned in other blog articles. If the steps I have outlined above don't resolve the problem, uninstall and then reinstall QuickBooks.
As I mentioned above with updating your release of QuickBooks, BE CAREFUL with this in a multi-user situation. This may be updating the release level of your installation. All users should be (and sometimes must be) on the same release. If you update your computer to a newer release you may force other users to update, and that can be a bit chaotic if you try this at a busy time.
If you have a multi user installation go to a different workstation where hopefully you can run QuickBooks without getting this error. On that computer press F2 and look for your License Number and Product Number. Write those down. YOU SHOULD already have that on the original CD if you installed from that, but many people don't have this information available. IN ADDITION, look at the Product line to see what Release you are running.
Go to your Windows control panel, find the Programs section, locate your copy of QuickBooks, and select uninstall. In the QuickBooks installation program select remove – do not select repair.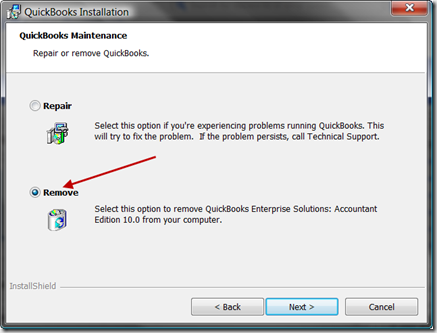 If you select Repair then most likely you will get an error during installation, such as a 1334 error.
The next step is very important in multi user installations. Go to the QuickBooks product update web site and determine what the current release is for your product. Compare this to the release information that you noted when you pressed F2 above. If the other workstations are using an older version then note that you may have to perform a minor file conversion. Normally this isn't an issue, but to do it you will have to make all users stop using QuickBooks, and they will all have to update their program to the current revision. You may want to find an appropriate time to do this (don't do it right as someone is about to print payroll checks, for example).
Next, reinstall QuickBooks. Do not just use your QuickBooks CD for this step. Instead, go to the Intuit QuickBooks Support Download Site  and locate your version of QuickBooks in the listing. Download the program. This is a full copy of the program including the latest patches, so you don't have to apply any patches after installation. Download this, run it, and reinstall your copy of QuickBooks.
You will need to enter the license number and product number – you may see that the program shows them on the installation screen as a "prior" value. In most cases you will find that you do not have to reregister the program – if you do, and you have to talk to the Intuit staff, just tell them that you are reinstalling on the same computer.
This has resolved the problem in all of the installations that I've worked with, hope it works for you!