If you are using QuickBooks to manage your inventory, you need to understand how QuickBooks deals with the cost of inventory items. I've been answering a lot of questions about this in the Intuit Community Forums lately, so here is a quick rundown of how things work.
Cost Fields in QuickBooks
If you look at an Inventory Part item, you will see that there are two cost fields.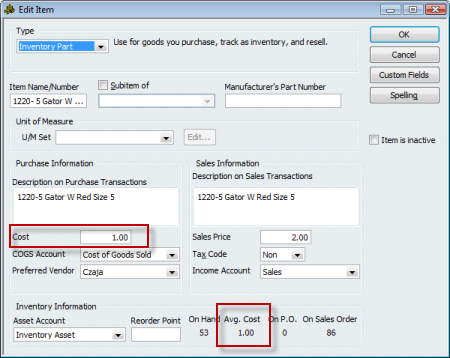 The cost field, on the left, is a "reference" field. That is, it doesn't have any direct bearing on the valuation of your inventory, the cost of your inventory in your inventory asset account. I wish they had another name, because it is confusing to talk about it. I refer to this as the "last purchased cost", although that isn't always exactly right.  If you purchase an item and receive a bill for it, the cost that you receive the item at will usually be stored here (but not always, that depends on how your company file is set up). You can edit this cost directly in this window, it doesn't have a direct effect on your inventory valuation.
The avg costfield, bottom center, is the field that is used in the calculation of the value of your inventory. This is calculated by QuickBooks based on the cost of receipt (and adjustment) transactions. You cannot directly edit this in the window here.
Inventory Valuation
QuickBooks values your inventory using an average costing calculation, as opposed to other types you may be familiar with, such as LIFO, FIFO, or specific costing. If you need another costing method, you will have to use a third party addon program that manages inventory outside of QuickBooks.
This can be a complicated subject – I am only going to go into this lightly. Let's look at a simple example.
If start with an item with no quantity, no value, and receive a quantity of 10 at $1.00 each, you will see that the cost is $1.00, and the avg cost is also $1.00. You have $10.00 of inventory in your inventory asset account.
If I then receive another 10 items, but at a unit cost of $2.00, you will usually see the cost value set to be $2.00. However, the avg cost of your inventory will show as $1.50. We started with 10 items and a value of $10.00, we added another 10 items at a value of $20.00, so we have 20 items with a value of $30.00. That gives us an average cost of $1.50.
If you sell one of these items in an invoice, the COGS account is incremented by the average cost of the item at the time of the sale.
This is a simple example. There are long arguments about the costing calculation that QuickBooks uses – relating to the more complicated situations when you have many added transactions, and other complicated situations.
One thing that I will note, briefly – if you sell all your inventory, and then continue to sell the item so that you go to a negative quantity, the costing calculation runs into problems. It can't accurately account for a negative balance, and you can see some very odd figures show up in the average cost field, and your inventory valuation reports. Once you bring the balances back to positive these figures should resolve themselves, but it is always a good idea to not allow inventory balances to go negative.
Manufacturing Cost
When you are working with an Inventory Assembly item you have an additional cost field – the Total Bill of Materials Cost. See my article on Understanding the Total Bill Of Materials Cost.
Let me know if this is clear, and if you need more information!