Intuit recently announced the Intuit PaymentNetwork, a low cost method of sending and receiving payments. As someone who collects and makes payments via online services every day, I was intrigued by the extremely low fees for this service. I've been playing with it lately, so here are some thoughts.
There are different methods of collecting and paying fees online. Often a business will find that they have to use several, both to provide the kinds of services that their customers need as well as to fit different business situations. I'm not going to go into the details of each option, nor am I going to list all possible options. I'll review a few examples, then talk about the Intuit PaymentNetwork and show where it might fit in. My thanks to Michelle Long at Long for Success, who helped me try this out.
Merchant Accounts
If you want to receive payments via credit cards you need to establish a "merchant account". There are many different companies that offer this kind of service, and I won't go into details. The typical merchant account is going to charge you a monthly fee (often waived if you go over a certain volume), a per-transaction fee, and a percentage of the transaction. For example, you can use Intuit QuickBooks Merchant Services, which integrates with QuickBooks. Fees (subject to change) are $19.95 a month, $0.23 per transaction, and 2.44% of the transaction if you don't have the credit card in your hand. Note that these kinds of services are very reliable, and the Intuit  option is a good choice because they don't hit you with a lot of ticky-tacky add-on fees.
PayPal
I use PayPal extensively, both to collect payments as well as to pay for things. PayPal is a good option for online transfers. With PayPal you can ask people to pay with a PayPal account, or via credit card without having to create a PayPal account. Fees (subject to change) start at $0.30 per transaction and 2.9% of the transaction, and the rate gets lower as your volume increases. It is important to note that there is no monthly fee for this kind of service.
Intuit PaymentNetwork
This service can be used to send or receive payments electronically, very similar to a check. The eye-catcher here is that your only cost is $0.50 per received payment. No monthly fees, no percentage of transaction.  If you are working with small amounts this might not be significant. But if you are transferring large amounts in a single transaction, the savings can be phenomenal.
When you sign up for the Intuit PaymentNetwork you have two account options: Small Business or Personal. A Personal account will only let you send payments, and it is free. A Small Business account takes a day (or so) to approve and allows you to send and receive payments.
You will be providing them with direct access to your checking account, all funds are exchanged between your bank and the client's bank. This is not a complete online payment service, as it won't let someone pay you by credit card.
Here is what the "landing page" looks like. Note that you sign on with your Intuit sign in. This is the account you use in QuickBooks if you are using any of their online services, as well as the Intuit Community forum, QuickBooks Online, Quicken and Turbo Tax.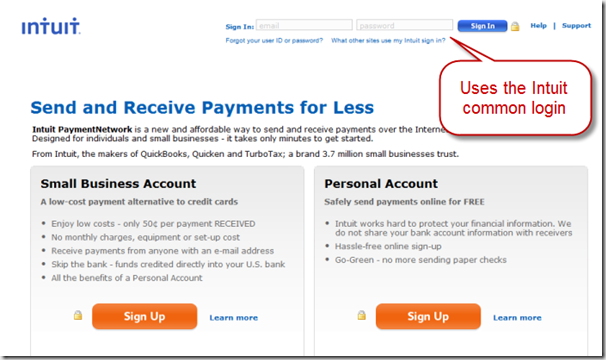 When you sign up you must provide information about your checking account. This program is going to be transferring money directly in and out of your bank account.
If you create a personal account it will be approved in a very short time. Note, though, that you can only use this account to send payments.
If you create a business account the approval may take longer – Michelle and I found that it only took one or two days. With a business account you can both send and receive payments. Fees are charged only when you request and receive a payment.
Request Payment
If you want someone to send a payment to you, you follow the request payment process. Specify an email address and enter the amount to request. The recipient gets an email message with the request. The recipient must open an account so that they can pay, they cannot pay with a credit card. After the payment is received, it shows up in your account.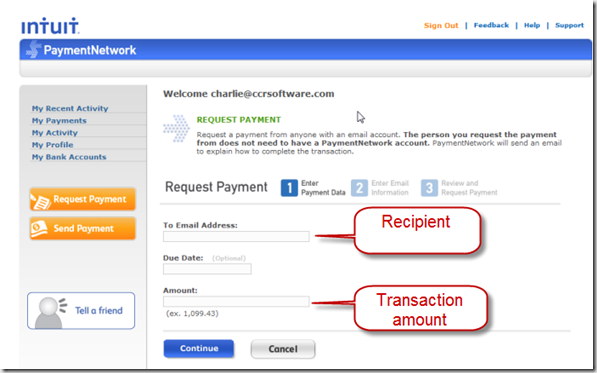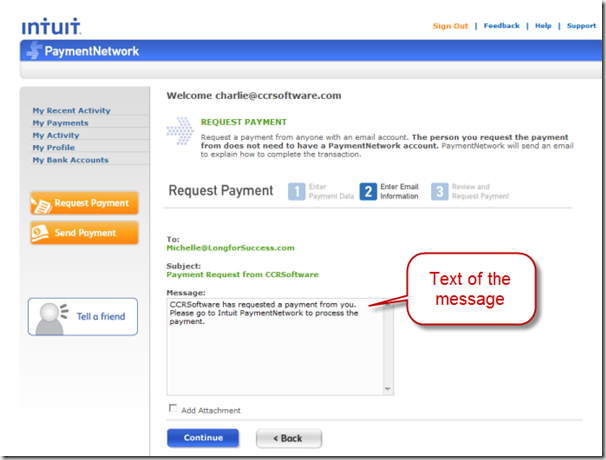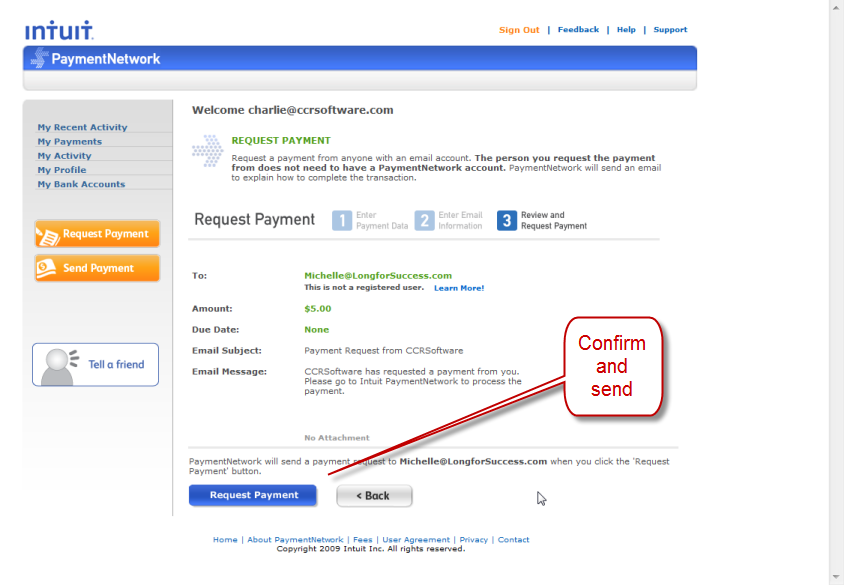 The recipient will get an email message similar to the following (this isn't the message that goes with the request shown above, it is similar).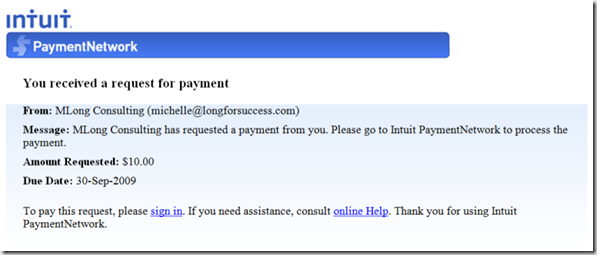 To make the payment they have to sign in, create an account (if they don't have one already), and send you the payment.
Managing Your Account
In your account you will be able to easily see payment requests you have created and payments you have received.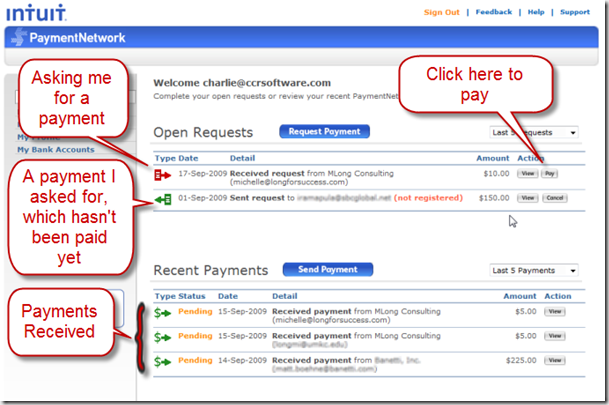 One very important point. Note the status of the Recent Payments. When someone sends a payment to you, the status is Pending. The funds aren't in your account. It typically takes a minimum of three days to get your funds posted to your account. Then the status is marked as Completed.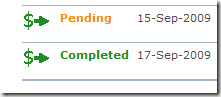 Note also, once it is marked as Completed your own bank may not show the transaction immediately. I usually see the payment by the next day (using Chase – this may vary with other banks).
Does It Work?
Yes! It does work. However, there are both good points and bad points:
Bad Points
Both sides must have an account, and it must be tied to a checking account. This works well if you are making frequent exchanges with someone, but it isn't as good for one-time payments. I did find that one of my clients preferred this over working with PayPal, though.
The biggest problem to me is that it takes three or more days to complete a payment transaction. Note that if you use something like PayPal the payment is credited to your account within minutes (usually), although it does take three days to withdraw from that account via a bank transfer.
It is important that the recipient of a payment request create their account using the same email address – otherwise Intuit PaymentNetwork won't match the payment with the payment request.
Good Points
Low Fees, Low Fees, Low Fees! That is clearly the advantage here. If you are transferring large amounts, paying only $0.50 for a transfer is far superior to using a merchant account or PayPal.
The system is simple to use and provides you easy access to your account. The user interface is simple, providing you with clear notices of the status of your transactions as well as step by step guidance through each process.
Why not just do bank transfers? The best reason is that you don't have to provide any sort of bank number information to your client.
Will I Continue to Use Intuit PaymentNetwork?
I will definitely continue to use this service for large transfers where a delay is not critical. I also will use it for smaller transactions when the client refuses to use a PayPal account or a credit card, which does happen to me on occasion.
I would like to add that this is a new service, and the staff at Intuit who manages this program have been very receptive to suggestions. The time delay is one criticism that they have noted and they are considering what they can change.
However, this will not replace my merchant/PayPal account. I often need to receive a confirmed payment immediately. I also have to use a merchant or PayPal account along with my online web store or phone orders.
Intuit PaymentNetwork will not replace the other payment tools I've been using, but it is a nice addition to my business toolbox.
Many thanks to Michelle Long of Long For Success LLC who helped me document this service. Michelle's web site is listed as one of my QuickBooks Support and Training Resources, a wonderful source for tips and tricks on using QuickBooks, and particularly for people who are interested in starting a QuickBooks oriented consulting business.
Updated Information
This information was added on 10/05/2010)
There have been a number of improvements since this article was first written. Please see my follup article about Intuit PaymentNetwork and QuickBooks 2011 for details on the improvements to this service.
Category: Billing, Invoicing, Product Reviews
Charlie Russell is the founder of CCRSoftware. He's been involved with the small business software industry since the mid 70's, focusing on inventory and accounting software for small businesses. Charlie is a Certified Advanced QuickBooks ProAdvisor. Look for Charlie's articles in the Accountex Report blog, as well as his California Wildflower Hikes blog.